WALTER A.SHEAFFER.
Born in Bloomfield, Iowa on July 27th 1867.Walter was the first of five children born to the union of Jacob Royer and Anna Eliza (Walton) Sheaffer.
Jacob had settled in Bloomfield in 1854 after failing to find his fortune in the California gold rush, he established a successful jewelry business and with the continued success of his business he was able to invest in a local insurance company. The timing of the Bloomfield Insurance Co decision to unite with the Great Western Insurance Company of Chicago was unfortunate. Shortly afterwards, the Chicago Fire of 1871 wiped out the company's resources, making stockholders like Jacob doubly liable. In 1873 Jacob was forced to dispose of his jewelry store in order to pay his debts.
These events left a lasting impression on W A.Sheaffer.
Walter had to begin work very early in life and did completely finish high school. His first job was as a devil in a printing office earning one dollar a week. From there, when he was twelve years of age, he worked in a grocery store for the summer. This enabled him to buy clothes for the winter.
The next summer he started a peanut stand and saved himself a large amount of money to see him through the winter. Walter spent freely and his money didn't last out the winter, this was a lesson he never forgot.
In 1880,Jacob started another jewellery business. He took a young nephew, who had been orphaned, into the store with him. Walter sought employment elsewhere, his first job was as a clerk in a Centerville jewelry store; he was paid $15 a month with board and lodging. His bed was a shelf under the counter in the store. He next worked for his uncle in Unionville; Missouri. After learning the retail jewelry business in Centerville and Unionville. Walter became a partner with his father in the Bloomfield store.
When Walter joined his father in Bloomfield the store was in debt. The store was under intense competition at the time from mail order companies and larger outlets like Sears. Montgomery Ward mail order catalogue were selling the Elgin and Waltham watches and other jewelry lines at around the same price the Sheaffer's could buy in at.
W A.Sheaffer turned around the fortunes of the family business by selling fine watches made by the Hamilton Watch Company, who did not sell to mail order companies.
The 17 jewel Hamilton line watches sold between $14 and $45.The 7 jewel Elgin and Waltham watch sold at $3.95,Walters plan was to create a desire in a customer to own the best watch.
His sale techniques worked and the Bloomfield store gradually pulled out of the red.
The Sheaffer's laid a foundation for their future success in the merchandizing the finest fountain pens.
On February 8th, 1888,Walter A.Sheaffer married Nellie and they had two children Clementine and Craig.
The small jewelry store was now supporting two families so Walter took on a piano and organ business to help with the strain on the store. A piano was place in the centre of the store and customers could look at the piano while shopping for or having items of jewelry repaired.
Walter would take the piano to customer out in the country in the evening and if he didn't make a sale would have to haul the piano back to town. This could be a trip of 15 to 20 miles; in those days there were no automobiles, no paved roads, indeed no gravel roads.
W. A.Sheaffer would go to great lengths to seal a deal, like helping a farmer to husk corn for two hours if he agreed to give him the time to show him the piano afterwards.
But by combining the two businesses, he was able to make the business a success.
Walter bought a home from his grandfather Ira D.Walton, which was traded for a property of eight acres out on the east side of town. He went into the breeding of Light Brahma chickens and was quite successful, so much so that it came down to the jewelry store or the chickens.
Walter sold all the chickens and traded the home for a 188-acre farm.
The farm was put into shape and Walter was ready to trade the farm for jewelry store in a larger town.
He had seen a Pennsylvania jewelry magazine listing a store for sale and on inquiry learned M.L.Bowen of Fort Madison.Bowen owned it promptly asked what Sheaffer wanted for his farm.
A deal was negotiated and Sheaffer agreed to trade his farm at $75 an acre and the store was invoiced at $12,152.
Bowden's jewelry store was located in a small building that was dark and the fine stock wasn't shown to its advantage. Sheaffer decided to build a store nearby and moved into it in the fall of 1906.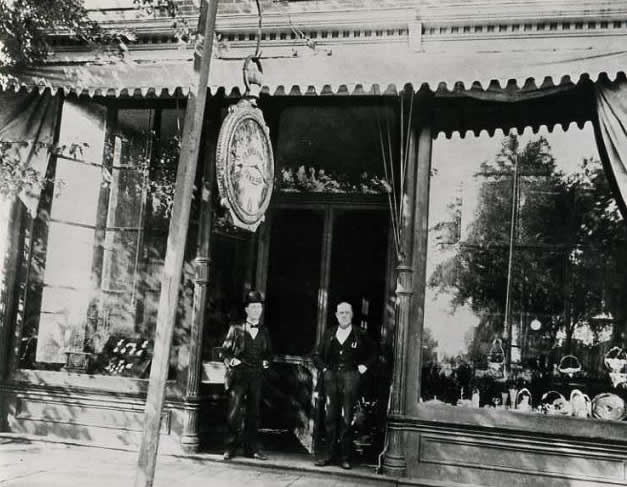 W. A. and J. R. Sheaffer at SHEAFFER'S Jewelery Store, Bloomfield around 1905.
-
W A.Sheaffer Pen Co
W A.Sheaffer was running his successful jewelry business in Fort Madison in 1907 when he came up with the idea of making a lever filling fountain pen.
Most pens at the time were ink droppers, Conklin made the most successful self-filling pen in 1907, but Sheaffer believed he could improve on the cumbersome design of the crescent filler.
He set about designing a self-filling fountain pen in the back of his jewelry store and came with the idea of a lever and pressure bar system to deflate the rubber sac, with the lever fitting smoothly into a recess in the pen barrel.
This design was patented on August 25th 1908, it was not until 1912 that Walter patented an improved design and went into the pen business full time.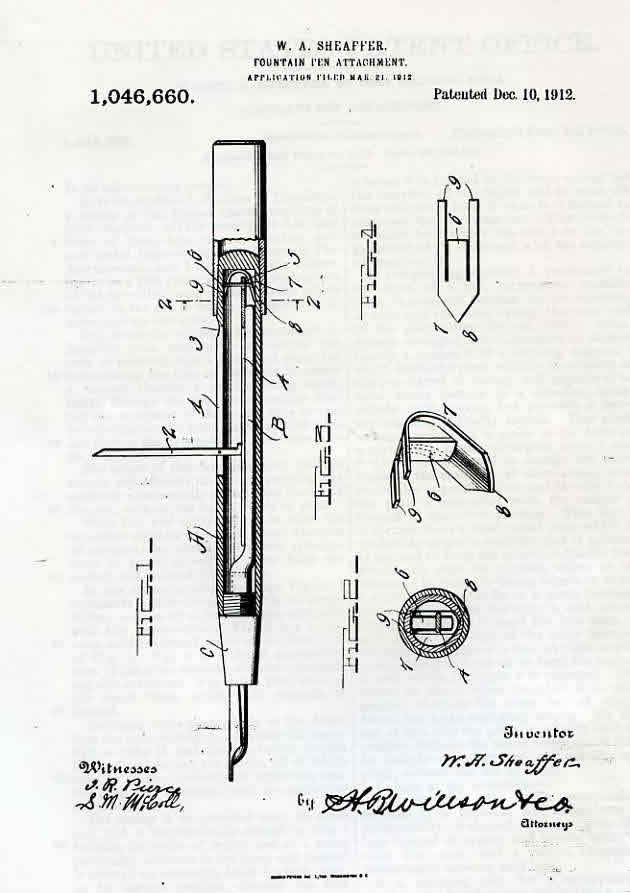 In the spring of 1912 Sheaffer transformed his jewelry workshop into a pen factory and with the help of two former Conklin salesman, George Kraker and Ben Coulson set up a sales office in Kansas City.
The first pens were hand-made by seven employees. Including Sheaffers young son Craig who was in charge of making the levers.
The early operations were a success and in 1913 the W A.Sheaffer Pen Company was incorporated for $35,000.
W A.Sheaffer owned 51 percent of the stock, Kraker and Coulson 40 per cent, and James C. Brewster, a Fort Madison banker, the remainder.
Sheaffer sold his jewelry business, and moved the manufacturing operations to the Hess Building in Fort Madison.
The earnings of the company in its first year of trading were $17,000, and with increasing sales more capital was needed. Kraker withdrew from the company, and Sheaffer and Brewster increased their holdings.
The Sheaffer pen success continued and in 1914 placed a full-page ad in the Saturday Evening Post.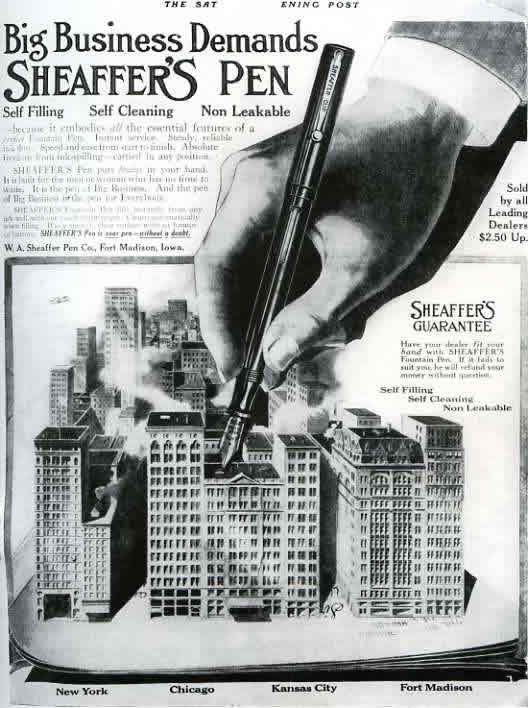 1914 SHEAFFER ADVERTISEMENT FROM THE SATUDAY EVENING POST.
-
With an increase in production needed, Sheaffer moved premises again in November of 1914 to their first real factory building at 410 Front Street, bordering the Mississippi river.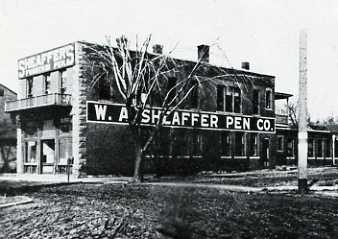 SHEAFFER OFFICES AND PLANT FACILITIES IN 1916.

Sales continued to increase and the larger and stronger companies began to take notice, it wasn't long before Sheaffer were confronted with patent litigation. One of the most crucial moments arrived when Brown and Bigelow of St. Paul sued for one million dollars.
Sheaffer representatives were confident of victory but W A. Sheaffer knew that even if he won the suit, it would cost him a lot of money and time away from the business.
Sheaffer was convinced he could save both companies a lot of time and money, if brown and Bigelow could be persuaded to drop the suit.
After several rebuffs, Sheaffer finally managed to set up a meeting with Mr. Bigelow,and after a strenuous battle succeeded in having the case dropped.
In February of 1917 the Fort Madison Plow Company was purchased and converted into the most up to date pen factory. This enabled Sheaffer to start manufacturing its own gold nibs, who had previously been shipped in from other other parts of the country.
In 1920 the Lifetime pen was introduced, the lowest priced one selling at $8.75.This was around three times the price of its competitors products, but the pen was a success and became the best selling pen in America.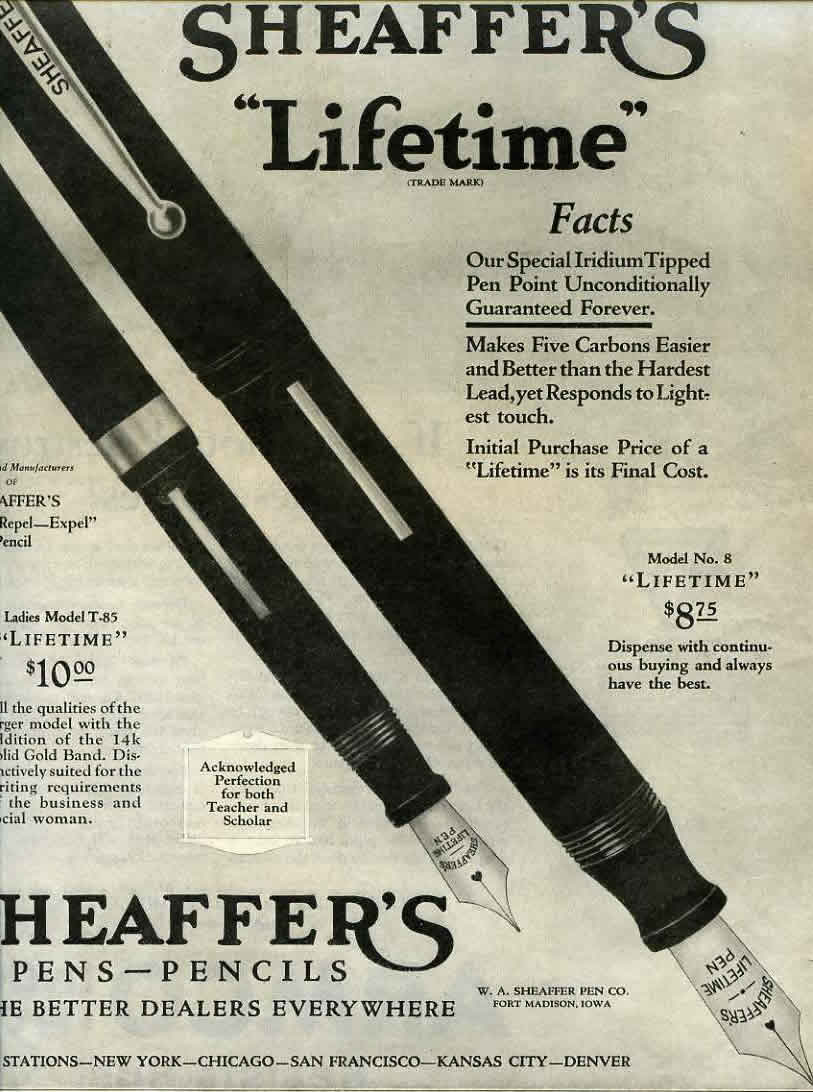 SHEAFFER ADVERTISEMENT FROM THE SATURDAY EVENING POST AUGUST 26, 1922.
-
The lesson learned by Sheaffer when selling Hamilton Watches in his jewelry store years previously had served him well.
Sheaffer philosophy was this; if someone could only afford a $1 pen then he was entitled to buy the best pen he could for that sum, even if it meant lower profits or even a loss for the company.
However if Sheaffer could create a desire in the customers mind and they could afford to buy the $10 pen, this would benefit all parties in the long run. The $10 pen would be guaranteed for a lifetime and therefore outlast the $1 pen tenfold, while giving the customer better writing quality and the prestige of owning such a beautiful writing instrument.
The Company would make a larger profit; therefore could improve the wages of their factory workers and sales team. The retailer also benefited through a dollar volume increase, and if the dealer had a profit-sharing plan the salaries of their sales people increase.
With employees now having higher wages this allows them to buy more goods themselves, and the spending of more money makes it necessary for more people to be employed to make the articles.
Therefore in making the higher-unit sale, you not only raise wages but you expand employment, which is an endless chain.
Sheaffer introduced its own brand of writing fluid called Skrip in 1922;it was a number of years before Sheaffer started to refer to Skrip as ink. This is thought to be because of the bad reputation of early acidic ink formulations.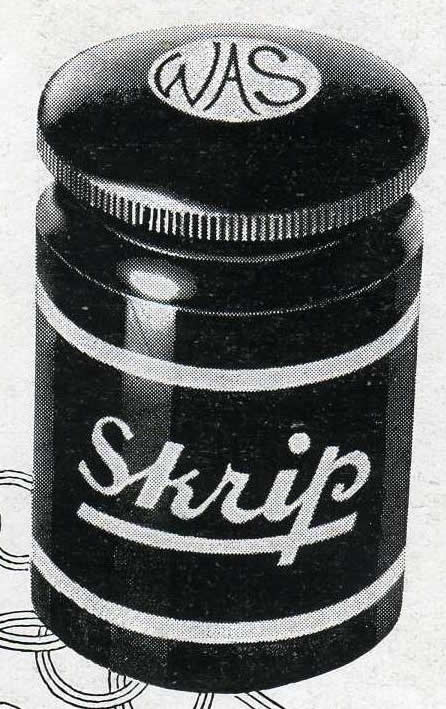 A BOTTLE OF SKRIP WRITING FLUID .
-
The early Lifetime pens were made of hard rubber in Black or Red

SHEAFFER LIFETIME SENIOR HARD RUBBER BLACK LINED FLAT TOP
-
In 1924 after extensive research Sheaffer introduced a new celluloid material called Radite.The first colours developed were in solid black and marbled jade green, it was in the same year that the famous white dot was introduced on the pens.
In 1926 Sheaffer stopped production of the hard rubber pens and started to stamp serial numbers on the Lifetime nibs.
SHEAFFER LIFETIME SENIOR RADITE BLACK AND PEARL FLAT TOP LEVER FILL FOUNTAIN PEN.
-
With trends changing in the late 1920's to a sleeker design of pen. Sheaffer developed a streamline pen with tapered ends in 1929 called the Balance. It was at the same time that a more flexible Lifetime nib was introduced.
SHEAFFER BALANCE OVERSIZE RADITE BLACK AND PEARL LEVER FILL FOUNTAIN PEN.
-
During the Depression Sheaffer sales held up until 1931 when sales dropped off sharply. Employees worked a three day a week as the situation continued worsen, then finally production stopped completely. That was the day when President Roosevelt declared a holiday, which closed all banks across the nation.
Production started again within a week when the two main banks in Fort Madison reopened.
In 1934 an economy line called Wasp was introduced
WASP SILVER COBWEB RADITE LEVER FILL FOUNTAIN PEN
-
The first plastic body pens with metal caps were introduced in 1937 within the Lifetime range. The barrels were made of Radite and the caps were either gold plated or made from silver.
Later in production these pens were called Crest.
SHEAFFER LIFETIME TRIUMPH STRAITED BROWN RADITE VACUUM FILL FOUNTAIN PEN WITH CREST STYLE CAP
-
In 1938 W A.Sheaffer resigned as President and became chairman of the board of directors. His son Craig succeeded him as president, and the company continued to prosper under his leadership.
During the Second World War there was a drastic reduction in the production of writing instuments. The company manufactured airborne communications plugs, bomb and artillery fuses and an automatic radio-tuning device for the armed forces.
Early in 1942 the company began to remodel a former paper mill in Fort Madison, which subsequently became Sheaffer's second production plant. In the same year, a new pen called Triumph was made with a circular wrap-around nib.
SHEAFFER LIFETIME TRIUMPH VALIANT CARMINE RED RADITE VACUUM FILL FOUNTAIN PEN
-
After the war ended, Craig Sheaffer was determined to make up for lost ground; his program included new products, new plant facilities and equipment, and a new merchandising and sales program.
A short film was produced by Sheaffer and shown to dealers to explain what work Sheaffer people had been doing during the war and why regular products were in short supply.
W A.Sheaffer passed away on June 19,1946.The Legacy, which he left behind, was one that most men dare only to dream about. I'm sure he must have been content with his life's work and leaving his company in the capable hands of his son Craig.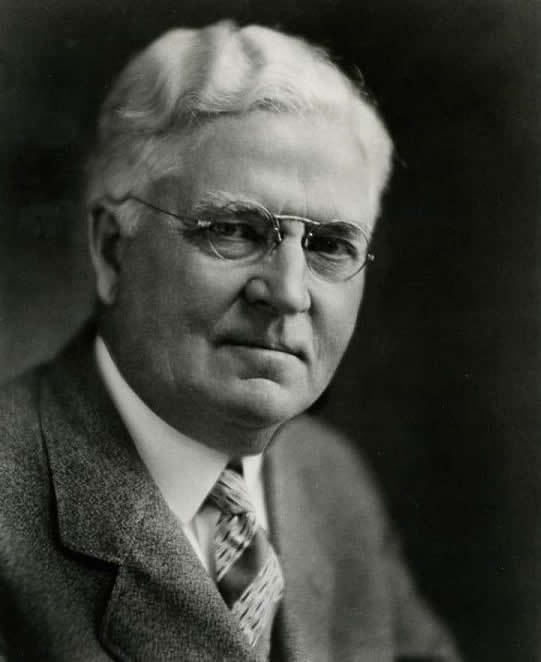 PORTRAIT OF W A.SHEAFFER 1867-1946
-
In 1947 Craig Sheaffer reported the pre-war prices were being maintained on most company products despite rising costs. With customer reaction being favourable, Sheaffer continue this policy as long as they were able. The main problem was keeping up with customer demand. A particularly significant manufacturing improvement was the installation of equipment for molding pen caps and barrels. This provided both a major decrease in product cost and a substantial increase in product uniformity and quality.
One thing that happened during the war was destined to have a marked and lasting impact on the writing instrument market. This was the introduction of the ballpoint pen. Orginally developed in Europe, produced in Argentina and picked up by the U.S. Air Force pilots, the ballpoint was found to meet the military's need for a pen with a leak resistant ink supply suitable for use in high-flying aircraft. After the war, the ballpoint was rushed onto the consumer market amid great fanfare and was eagerly snapped up despite high prices.
The first Sheaffer ballpen was made and sold in 1946,Other important developments by Sheaffer in the forties were the inner spring pocket clip, the Triumph pen with its conical sheath-type nib, the touchdown filling mechanism, and the Fineline line of popular priced products.
In 1949 Sheaffer dedicated a new softball field at its Employees Park, located just outside Fort Madison, with tennis courts, hiking trails, and facilities for camping, picnicking, and other outdoor activities.
An explosion in the basement of the company's new office building in the spring of 1950 caused a near disaster. It was fortunate that the explosion occurred in the office building, if it had happened in the old plow works building, it would probably been destroyed.
This incident prompted Sheaffer to replace the old plow works building and contracts for anew main plant were signed in 1950.Constuction was completed in 1952 and the plow works building, after more than three decades of service to the company, were razed to the ground to make way for an employees parking lot. Sheaffer employees wrote messages to their counterparts of the year 2001.The documents were placed in a tube and sealed in the walls of the lobby of the new building.
In November 1951, the 50 millionth Sheaffer pen came off the assembly line.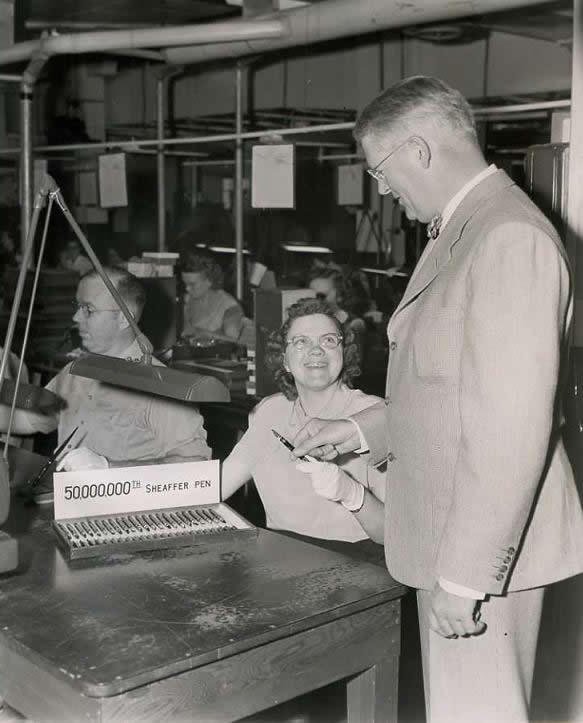 CRAIG SHEAFFER WITH EMPLOYEE AND THE 50 MILLIONTH SHEAFFER PEN.
-
Developed in great secrecy and launched in 1952 with the greatest promotional campaign in the company's history, the new snorkel pen created a major sales surge.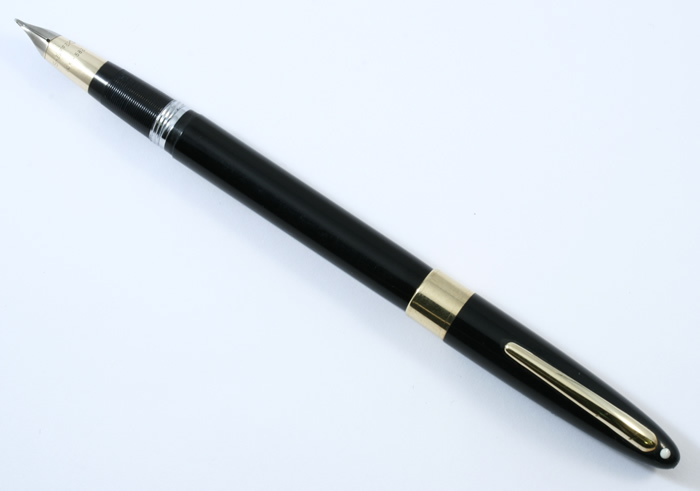 SHEAFFER SNORKEL BLACK VALIANT FOUNTAIN PEN
-
Sheaffer followed the success of the snorkel pen with major refinements in the ballpoint refill, the first popular priced cartridge pen, the Lady Sheaffer line, and the PFM (Pen For Men).
SHEAFFER PFM I - BURGUNDY FOUNTAIN PEN AND PENCIL SET
-
In 1961 the company suffered a severe lose with the death of Craig Sheaffer
, Son of the founder. Craig was then Board Chairman a position he had held since 1954.
Sheaffer introduced a new updated line of Lifetime pens in 1963 to commemorate its 50th anniversary. These were the first pens to carry a guarantee for life since 1947.

SHEAFFER LIFETIME 1250 ( $12.50 Pen) - IMPERIAL STYLE BLACK G.T. FOUNTAIN PEN FITTED WITH INLAID LIFETIME NIB.
-
In 1964, John A. Keenan was elected company president. This was the first time in Sheaffer's history that someone from outside the Sheaffer family had held this position. Walter Sheaffer II, then president moved up as Board Chairman.
1966 brought a major change in Sheaffer's history with the sale of the company to Textron Inc., a manufacturing company with headquarters in Providence, Rhode Island.
During the Sixties Sheaffer expanded its research and development facilities and staff, successful products introduced during that period included the Reminder clip ballpoint pen, porous point markers, desk sets with Lenox china bases and the first in a line of modern "vintage" style pens named "Guy and Dolls" base on one of Walter Sheaffer's first designs. Later in production this model was renamed No-Nonsense.
The first Nostalgia pens with gold and silver filigree work were introduced in 1970, fashioned on the models from twenties.

SHEAFFER NOSTALGIA 14K SOLID GOLD OVERLAY FOUNTAIN PEN- LIMITED EDITION OF 1000 PIECES.
-
The Targa By Sheaffer line was introduced in 1976 in the same year Sheaffer merged with one of Textron's other divisions, the Eaton paper Company of Pittsfield, Massachusetts.

SHEAFFER TARGA GOLD PLATED FOUNTAIN PEN IN FOXHEAD PATTERN.
-
Sheaffer Eaton continued to devote close attention to its Sheaffer writing instrument line, in 1981a new contemporary line called TRZ was introduced.
The Targa range was expanded in 1982 to include a slimline model. Sheaffer developed its own facilities for applying lacquer and enamel finishes, prior to this hand applied lacquering had been carried out by Art Noveau in Paris, France.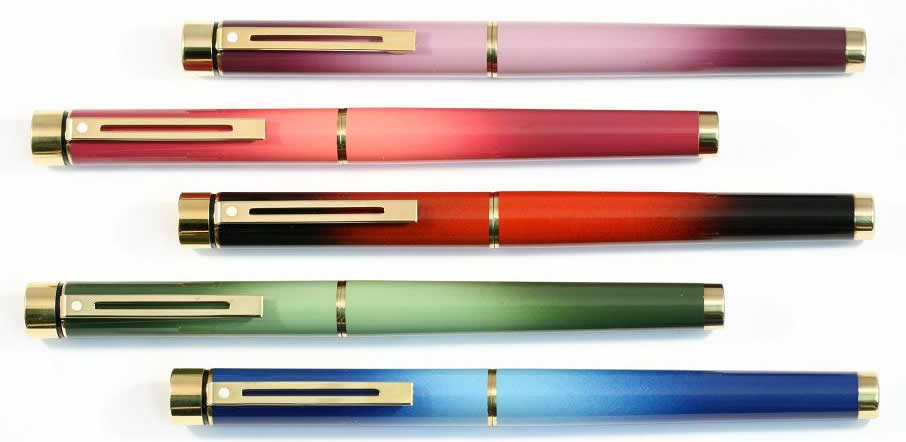 EXAMPLES OF SHEAFFER TARGA LAQUE PENS BY ART NOVEAU PARIS FRANCE
-
During 1983 Sheaffer initiated distribution of several writing instruments imported from its Japanese distributor, Sailor Pen. A new line called Sentinel appeared in 1984 with the "S-Dot" imprint on the pocket clip.
The new Connaisseur pen was announced in 1985 based on the Twenties flat end styling, originally only made in a black acrylic finish. Sheaffer England later developed the range further for the European market, these Grand Connaisseur pens in Laque and Metal finishes were not offered in the U.S. during the first few years of production.

SHEAFFER CONNAISSEUR BLACK LAQUE SPECIAL FOUNTAIN PEN WITH MAKI-E BY SAILOR PENS JAPAN.
--
Textron sold its Sheaffer Eaton division in the summer of 1987 to Gefinor (U.S.A.) Inc, an affiliate of Gefinor S.A., a Luxembourg investment banking company, with it's headquarters in Geneva, Switzerland. The company sold off its Eaton typewriter paper and At-A-Glance book lines and acquired Crownmark a company that made key rings and jewellery. In January of 1989,Sheaffer Eaton moved its corporate headquarters and administrative offices to Lincoln, Rhode Island, the location of its newly acquired Crownmark Division.
The Targa range was revamped in 1989 to include new metal and matt finishes. Sheaffer UK and Classic Pens Inc collaborated in 1990 to produce a limited edition Targa pen in Sterling silver; the first in a line of CP limited editions this pen was limited to 250 pieces. The early nineties brought some beautiful finishes in the Targa Classic range mean while the Slimline models were slowly being phased out.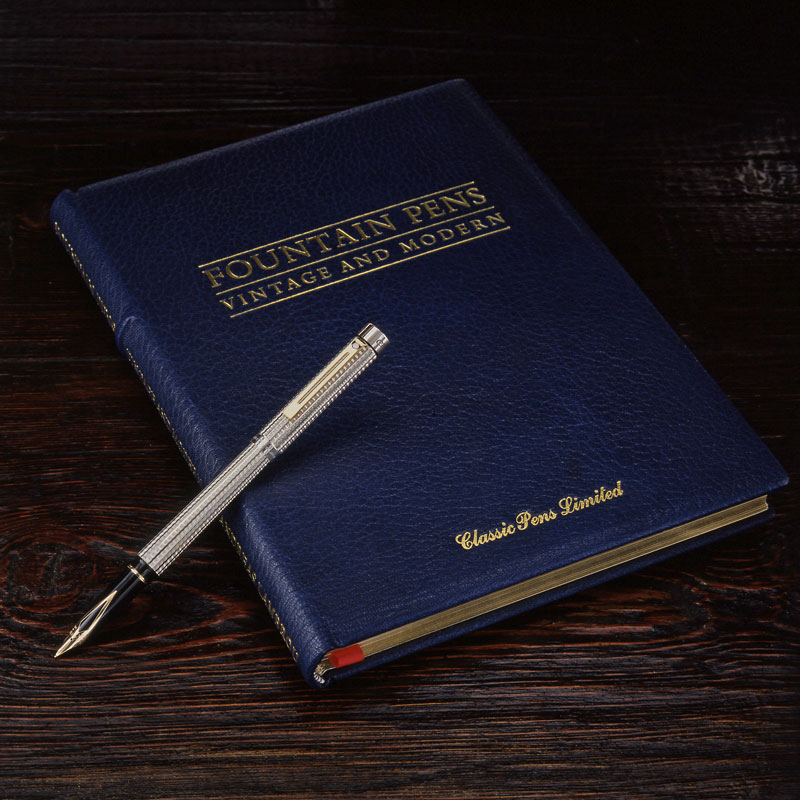 SHEAFFER & CLASSIC PENS INC, CP1 TARGA LIMITED EDITION FOUNTAIN PICTURED WITH ANDREAS LAMBROU'S BOOK FOUNTAIN PENS VINTAGE AND MODERN.THIS BOOK IS MADE FROM FULL DARK BLUE MOROCCO LEATHER AND WAS A SPECIAL EDITION OF 100, BOUND IN 1990 BY A. W. LUMSDEN OF EDINBURGH, SCOTLAND.
The modern Crest model was introduced to the line up in 1992 with a tubular nib in 14K solid gold, the Crest pens first appeared in a 1989 Sheaffer UK catalogue with a steel nib, these pens may never have made it out of the factory to be sold.
Classic Pens Inc and Sheaffer UK came together again in 1993 to produce the Crest CP3 Pushkin Limited Edition of 500 pieces .The hallmarked Sterling Silver pen was given a unique finish for the crest range in a solid barleycorn pattern.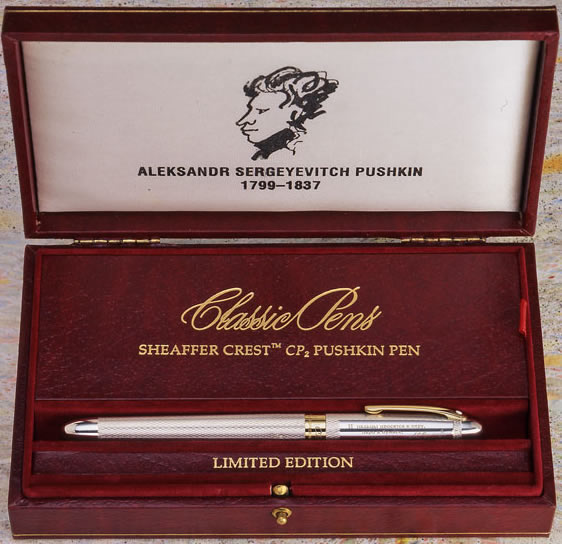 SHEAFFER & CLASSIC PENS INC, CP2 CREST LIMITED EDITION FOUNTAIN PEN.
-
The Floral Etched Nostalgia pens made a brief appearance in 1992,made of Sterling Silver and Vermeil and engraved with a floral pattern onto a solid cap and barrel, unlike the original overlay Nostalgias.

SHEAFFER NOSTALGIA FLORAL ETCHED SILVER AND VERMEIL FOUNTAIN PEN
-
In 1995 the Legacy range was introduced based on the PFM, the first and second edition models have the touchdown filling system with a unique convertor that can be removed to enable the pen to use ink cartridges.

SHEAFFER LEGACY II BLACK PEARL SPECIAL EDITION FOUNTAIN PEN
-
During the same year the Triumph range was revamped and called the Imperial Triumph, the pens had the same shaped caps and barrels as the original Imperial pens made in the Sixties.
A Special Edition Imperial Triumph pen "The Holly Pen" was made for the 1996 Christmas Season. The Special Edition range named the Holiday Originals only ran for two seasons the 1997 pen was a Prelude model called "The Snow Pen".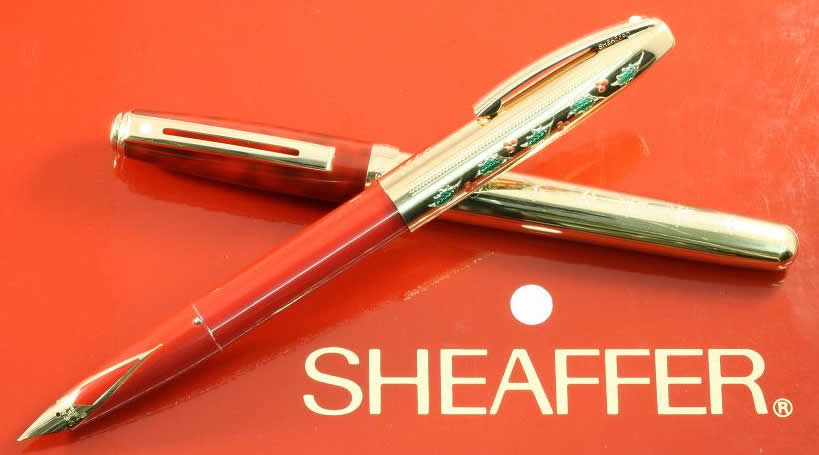 SHEAFFER HOLIDAY ORIGINALS IMPERIAL TRIUMPH 1996 "HOLLY PEN" AND PRELUDE 1997 "SNOW PEN"
The W A Sheaffer Commemorative was introduced in 1996 this Lever Fill fountain pen was made in a Limited Edition of 6000 pieces and had the profile of the early pens made by W A.Sheaffer.

W A.SHEAFFER COMMEMORATIVE LIMITED EDITION LEVER FILL FOUNTAIN PEN
-
Sheaffer was sold again in 1997 by Gefinor to the U.S. subsidiary of the French manufacturer Bic.The sale was complicated by a counter-offer by a group of Sheaffer executives, they claimed to have first refusal of any buyout.
Bic took the case to court and up its original offer believed to be just short of $50 million by $2 million and the sale eventually went through.
Sheaffer continued to add to its Luxury Collection in 1997 with the addition of Balance Limited Edition.The Balance pen first made in 1928 was reproduced in a Limited Edition of 6000 Lever Fill Fountain pens, according to Sheaffer the classic design of the original pen blended with modern technology created a writing experience unlike any other.

SHEAFFER BALANCE LIMITED EDITION LEVER FILL FOUNTAIN PEN
-
A Balance Demonstrator fountain pen was also made in a limited edition of no more than 100 pieces, . This pen was only made available to selected Sheaffer dealers placing very large orders.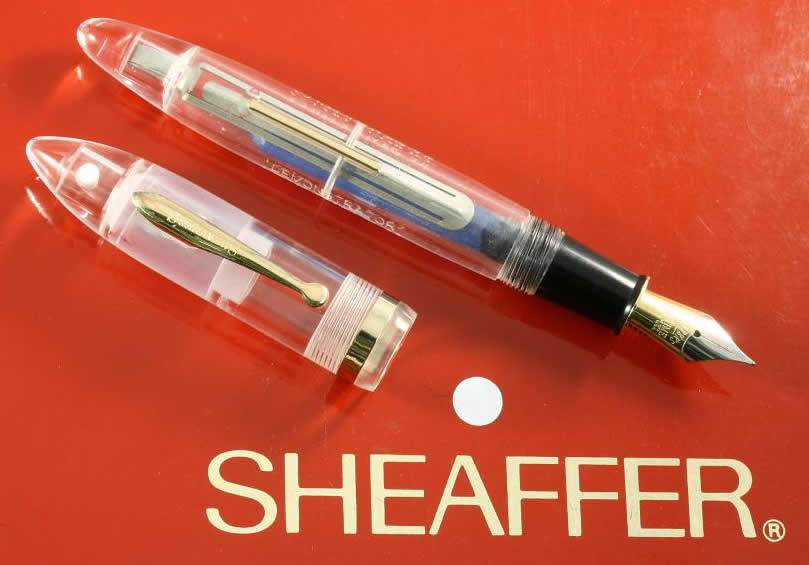 SHEAFFER BALANCE LEVER FILL DEMONSTRATOR FOUNTAIN PEN.
The New Balance pens arrived in 1998 made in solid and marbled colours. The solid colour pens were fitted with a single colour 14K nib, while the marbled finishes had an 18K two-tone feather touch nib.
A special edition Balance was made in 1999 to celebrate the Millennium, made in three different modes fountain, roller and ballpoint pen .The fountain pen was supplied in an elegant gift box which included a specially-designed desk clock featuring a Balance Millennium Edition medallion
.

SHEAFFER BALANCE MILLENNIUM SPECIAL EDITION FOUNTAIN PEN
-
The Intrigue pens were introduced in 2000, created in collaboration with Alexander Benn of the Mode Product Design Studio in Stuttgart.The fountain pens have a unique fillling system with a piston convertor that is filled by turning a button on the end of the barrel.Two limited Edition Intrigue fountain pens were made in 2000 in Gold Plate and Palladium plate both limited to 350 pieces.In 2001 a one of a kind Intrigue was sold at auction with the proceeds going to Kids Charitys,this Sheaffer Intrigue was decorated by Jon Lim Soon a jewellery designer from Singapore.Ninety seven South African diamonds,sixteen cabochon sapphires and a Japanese pearl all serve as a backdrop for two Kashmir blue sapphires one 0.53 and the other 1.39 carat.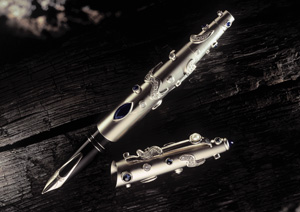 SHEAFFER INTRIGUE SPECIAL EDITION "1 of 1" FOUNTAIN PEN BY JON LIM SOON
---
The Legacy range was revamped in 2003, the touchdown filling system was dropped in favour of the usual cartridge-convertor filling system and named the Legacy Heritage.

SHEAFFER LEGACY HERITAGE LIKE LEATHER FORMAL BLACK P.T FOUNTAIN PEN.
-
Early in 2004 Bic announced their intentions to close Sheaffer's Fort Madison Plant by the end of 2006, ending nearly one hundred years of pen manufacturing by Sheaffer in Iowa.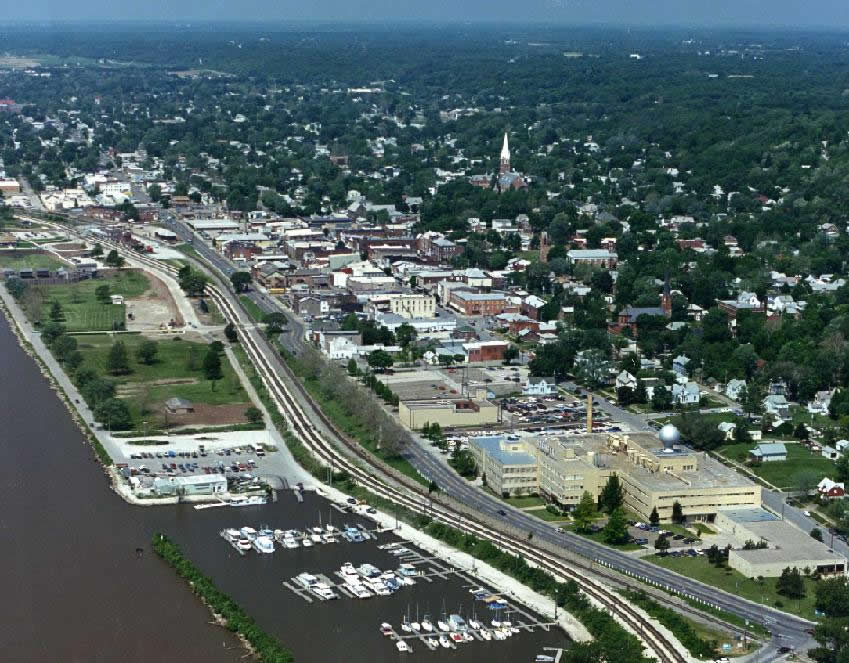 AERIAL VIEW OF THE SHEAFFER PLANT IN FORT MADISON, IOWA, USA.
-
The Sheaffer Valor was introduced in 2006, the pen body is manufactured in Italy, the nib units are now made in Germany by Bock, who originally had problems producing the inlaid nib.Infact, Bic were forced to rent back part of the Fort Madison plant to continue making the Valor nibs, eventually in 2008 all production at Fort Madison was stopped and the facility was closed down.

SHEAFFER VALOR BLACK G.T FOUNTAIN PEN.
Most of the Information used in this write up was gathered from the book " FOUNTAIN PENS OF THE WORLD " and used with the kind permission of Andreas Lambrou, Classic Pens Inc.