-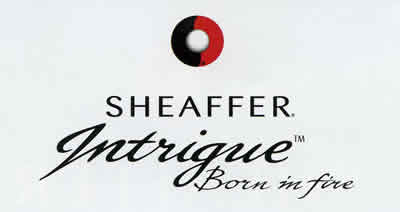 -
The Intrigue was introduced to the Sheaffer collection in the year 2000. Sheaffer employed the Modus Product Design Company in Stuttgart to create a collection of six unusual designs and finishes, this original collection came under the banner "Born In Fire" . A new style inlaid nib was designed for the intrigue in 14K solid gold, all the "Born In Fire" fountain pens were fitted with the 14K nib and depending on the trim of the pen came fitted with either a gold or white gold nib unit.
-

-
-
-
-
-
-
-
The Intrigue fountain pen incorporates a filling system that allows the pen to be filled from a bottle of ink without accessing inside the pens barrel, the same idea was used on the Sheaffer Legacy I and II fountain pens, where the convertor can be remove allowing the use of ink cartridges.The Intrigues system uses a unique piston convertor which is filled by turning a knob on the end of the barrel.
-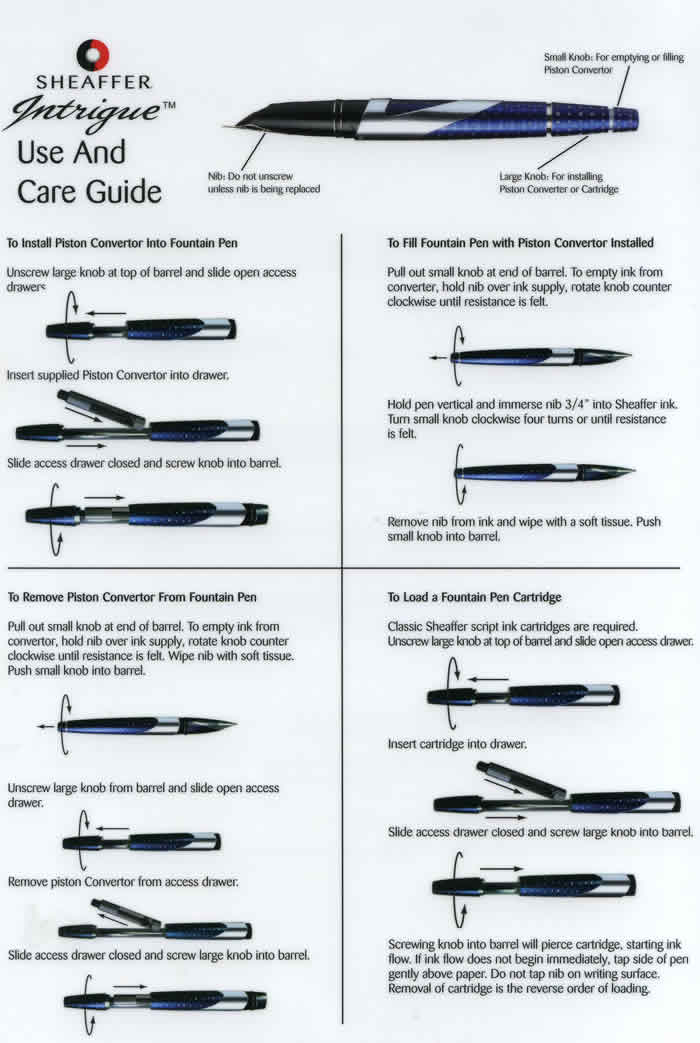 -
The Intrigue Born in Fire Collection was made in all four modes, Fountain pen, Ball pen, Rollerball pen and Pencil.
-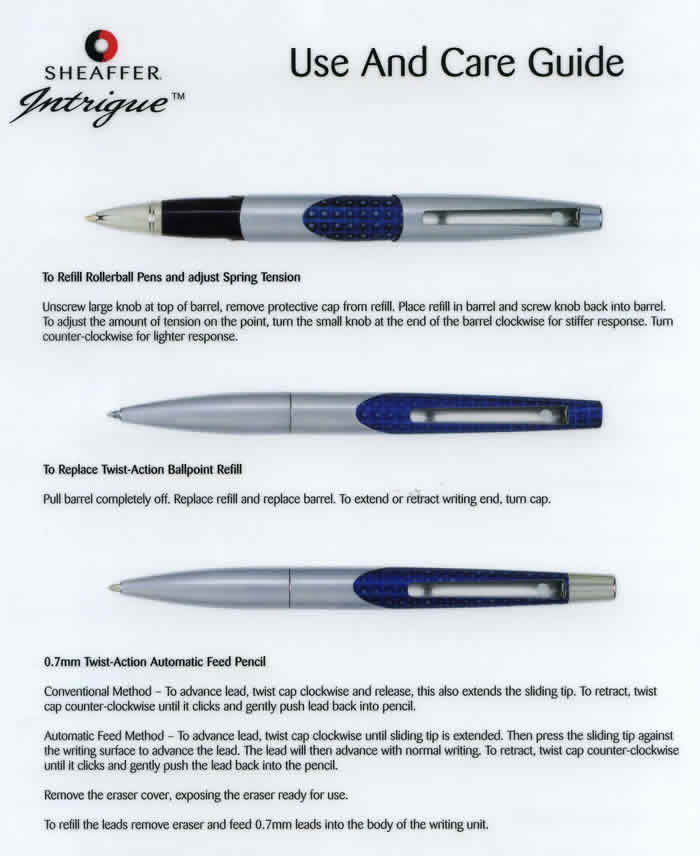 ---
-

Two limited edition fountain pens came out in the year 2000, one in a palladium plated finish and the other in gold plate, both fountain pens were limited to 350 pieces and the retail price was four times that of an Intrigue "Born in Fire" fountain pen.
A limited-

-
| | | |
| --- | --- | --- |
| | - | |
| A two tone 18K nib is fitted on the palladium plated LE . | | Each pen is individually numbered onto the pens barrel. |
-
-

"1 of 1" Fountain Pen
This one of a kind Sheaffer Intrigue was made in 2001 and decorated by Jon Lim Soon jewellery designer from Singapore.Ninety seven South African diamonds,sixteen cabochon sapphires and a Japanese pearl all serve as a backdrop for two Kashmir blue sapphires one 0.53 and the other 1.39 carat. The pen was auctioned by Sheaffer and all the proceeds were given to to an educational trust for 11 special needs children.
-
-

-
Two new finishes were introduced to the Intrigue collection in 2002, under the banner "Reborn in Fire". The fountain pens have the same chrome plated cap and overlay to the barrel, the 618 is finished with a petrol blue metalic barrel, while the 619 uses a seal pattern with cool blue and light grey dappling over a silver finish and both were fitted with the 14K white gold nib. The "Reborn in Fire" pens were also available in all four modes of Fountain Pen, Ball Pen, Rollerball Pen and Pencil.
-

618 - Petrol Metallic Blue/Chrome Plate
-

619 - Seal Stencil/Chrome Plate
-