The Modern Sheaffer Crest 1989-1998.
-
The modern Sheaffer Crest used the Sheaffer Snorkel 'Crest' pens from the 1950's as its inspiration. The name 'Crest' was used by Sheaffer from 1938 to 1959 to refer to any model with a gold filled or solid gold cap with a plastic barrel.
-
-
In 1989 the 1st version of the modern Sheaffer Crest appeared in a 1989 UK catalogue, although these pens never made it into the Sheaffer price list. I had a conversation with the Sheaffer UK production manager and was told they were unable to replicate the quality of the original Crest Snorkel pens and for this reason the line was withdrawn, some of these pens may have made it out of the factory, however I have never seen a complete 1st version of the Crest pen. I did manage to find two of the early Crest Caps, which unfortunately came to me without the matching nib and barrel. The screw thread inside these caps varies to the later Crest models, however it fits perfectly onto the body of a Sheaffer Snorkel.
-

SHEAFFER CREST MARK I TORTOISESHELL CAP - CIRCA 1989, FITTED ON A SHEAFFER SNORKEL BODY CIRCA- 1952-59.
-
SHEAFFER CREST MARK I CAPS IN TORTOISESHELL AND ELECTROPLATED GOLD - MADE IN ENGLAND - CIRCA 1989.
-
The 1st version Sheaffer Crest used a steel nib and the white dot was place above the clip like the original Sheaffer Crest Snorkel pens from the 1950's
-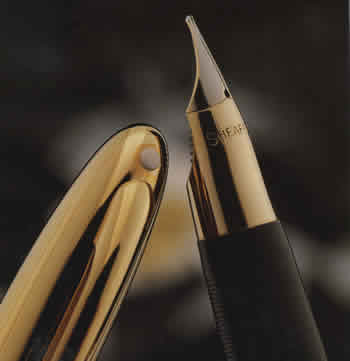 SHEAFFER CREST MARK I SCANNED FROM SHEAFFER 1989 CATALOGUE
-
SHEAFFER CREST MARK II
-
The seeds of the modern Crest had been planted and in 1992 Sheaffer introduced the new Crest Pens. A couple of finishes made it into the March 1992 UK price list, the all gold plated and the gold plated with black lacquered barrel, no model numbers were allocated to the pens in this list.
-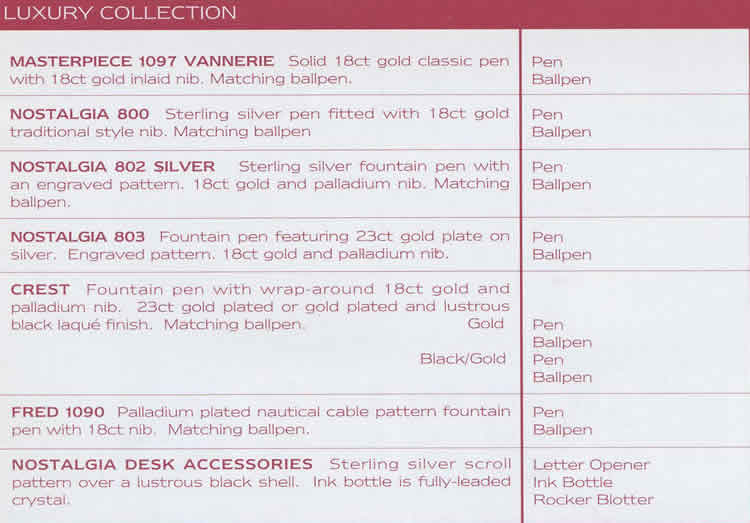 SCANNED FROM A MARCH 1992 SHEAFFER UK PRICE LIST
-
-

-

-
-
In a 1992 trade order form the following four models were available.
590 Gold Plated Classic pen.
593 Black/Gold Plated Classic pen.
592 Red/Gold Plated Classic pen.
591 Black Laque Classic pen.
-
-

-

592
23k Gold Electroplate/Red Laque Fountain Pen
-
The Mark II Crest was a much more up-market pen than the 1989 version and was placed in the Sheaffer Luxury Collection, the overall appearance is the same but the white dot was fitted onto the clip and a 18K cylindrical nib unit was used. Sheaffer may have change this nib before it was put into full production as an early catalogue shows a 14K Crest nib.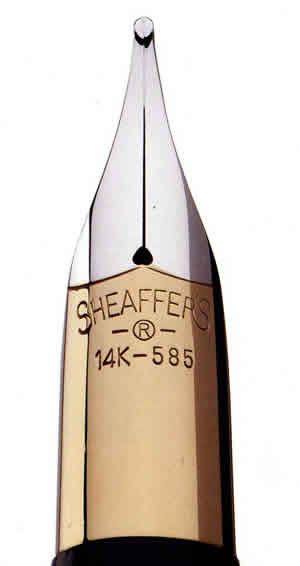 -
Two new finishes were added to the Crest range in March 1993, the Palladium Electroplate GT and the 'Flagship Sterling Silver' model cut in an interrupted barleycorn pattern with electroplated gold trim.
-

-

-
-
SHEAFFER CREST 'CP2 PUSHKIN' BY CLASSIC PENS INC.
-
Classic Pens Inc and Sheaffer UK came together in 1993 to make the CP2 Pushkin Crest a Limited Edition piece of 500 fountain pens
Sheaffer Crest Pushkin CP2 By Classic Pens Inc - Photograph by Jim Mamoulides, www.penhero.com.
-
-
Sheaffer UK and Classic Pens had already form a working relationship making the Sheaffer Targa CP1 and this time Classic Pens were looking for a pattern that would remain unique within the Crest range. At first Sheaffer UK offered the interrupted barleycorn pattern used on the Crest 595 and made the prototype shown below, note the prototype is numbered 123 of 250
.
-

CP2 PROTOTYPE STERLING SILVER IN THE INTERRUPTED BARLEYCORN PATTERN, STANZA ON TWO LINES AND NUMBERED 123/250
-

CP2 PROTOTYPE - CLOSE UP OF STANZA ON TWO LINES.
-
CP2 PROTOTYPE - CLOSE UP NUMBER 123/250.
-
Classic pens were determined to have a unique pattern and Sheaffer UK made more prototypes in a solid barleycorn pattern in palladium plate and solid silver. The solid silver pen was chosen when Classic Pens agreed to make 500 pieces instead of 250.

CP2 PROTOTYPE IN PALLADIUM PLATE WITH A FULL BARLYCORN PATTERN.
-
-
The Cp2 fountain pens carry the hallmark of the London assay office and the pens are fitted with the normal Crest 18K nib unit.

-
The Edition number and CP2 logo is laser engraved onto each pens wide vermeil cap band, Sheaffer USA and Sterling Silver are also stamped onto the band.
-
The cap is laser engraved with the stanza in original Russian and Aleksandr Pushkin's signature
.
The stanza is one of Pushkin's most favourite and the translation is:
'AND FINGERS YEARN FOR PEN,
PEN FOR PAPER,
A MOMENT ...
AND VERSES FREELY FLOW.'

-
The CP2 pens are presented in a specially designed hand crafted gift box and a certificate of authenticity signed by Andreas Lambrou accompanies each pen
.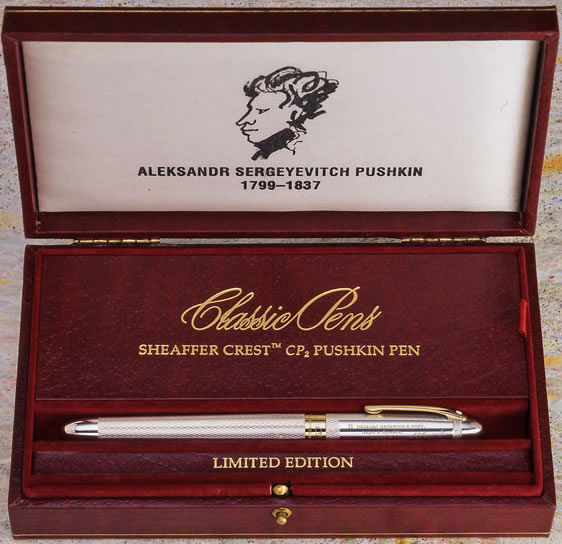 -
A series of three Crest Opalite pens came out in August 1994, the pens barrel is machined from a rod of natural based celluloid that creates a very hard a durable surface, which is polished to give a strong, and highly reflective sheen. The Opalite series cap is 23K Electroplated Gold with lines and spaces, previously used on Crest 590, 592 and 593 models.
-
596 23k Gold Electroplate/Opalite Green Fountain pen
-
597 23k Gold Electroplate/Opalite Brown Fountain pen
-

598 23k Gold Electroplate/Opalite Red Fountain pen
--
-
The Sheaffer Colour Palette Programme was launched in 1995 , the collection included a total of sixteen finishes, four of each from the ranges of the Sheaffer Imperial Triumph, Sheaffer Fashion, Sheaffer Targa and Sheaffer Crest. The four Crest colour palette pens were crafted in a new pattern called "Nova" which is created by more than 23 layers of lacquer and hand decoration, the Crest pens were the Flagship of the collection.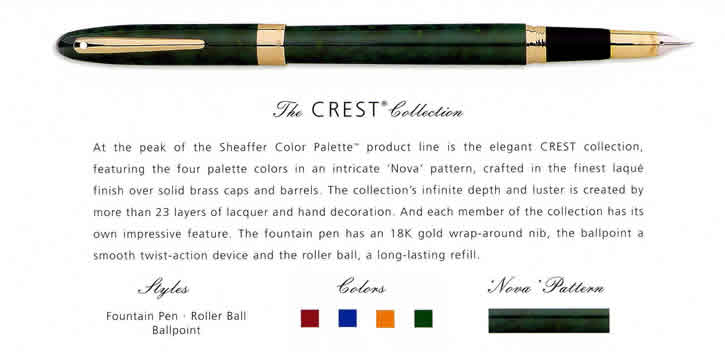 -
-
SHEAFFER CREST PROTOTYPES.
Below are some examples of Sheaffer Crest prototype fountain pens in a variety of finishes including Palladium Plate, Sterling Silver with gold plated nib shell, Brass and Lacquer, Wood and Gold Plate, Resin and Gold Plate and Gold Plate with ornate cap band and gold plated nib shell.